39
People watching this product now!
The Sleep and Wake-Up Light is designed to help you relax and wake up refreshed. With light-guided breathing and personalised sun settings. From the sleep experts and makers of the leading global wake-up light.
Fall asleep relaxed & wake up refreshed
Simulated sunrise and sunset
RelaxBreathe to sleep
Multiple lights and sounds
Midnight light
Simulate a natural sunrise to wake up refreshed
The Sleep and Wake-Up Light gradually increases before your alarm time. Over the course of 30 minutes, the simulation will start off as a soft morning red and gradually increase to orange, until your room is filled with bright yellow light. This creates a natural stimulation to wake up, while your body is still asleep. By the time light has filled the room, natural sounds or FM radio complete your wake-up experience, leaving you ready for the day.
Light-guided breathing helps you relax to sleep
Inspired by well-known breathing and relaxation exercises our light-guided wind-down function is designed to help get you to sleep by helping you decompress from the day's activities and unwind. Follow one of seven rhythms of light intensity or sound with your breathing while keeping your eyes closed for a calm and peaceful transition from your day to your dreams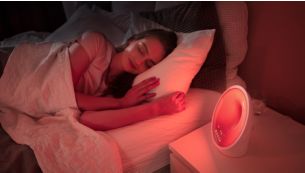 Sunset simulation prepares your body for sleep
The sunset simulation programme prepares your body to sleep by gradually decreasing light and optional sound to your set duration, gently helping you to relax before you fall asleep.